The origins of Qoros marque
12-27-2012, 06:57 AM
Aristo
Administrator


Posts: 50
Joined: Dec 2012
The origins of Qoros marque
http://www.chinacartimes.com/2011/11/29/...and-heard/
China Car Times Wrote:The Japanese Three of Nissan, Toyota and Honda decided that their run of the mill brands were far too bland to take on the luxury segment, so they came out with Infiniti, Lexus and Acura to target the the high end segments that were being dominated by the German Three consisting of BMW, Mercedes and Audi and also the American Two luxury brands, Cadillac, Lincoln, and possibly Chrysler. Now Chinese manufacturers face a similar problem, Chinese cars have a reputation for being low cost and ultimately low down on the shopping list when it comes to car shopping, even Chinese consumers are not in a rush to buy a Chinese car with the majority of the Chinese car market being dominated by foreign manufacturers.

Chery wants to change that, they partnered with Israeli Corp's Quantum LLC in 2007 to make a range of high end cars for the Chinese market and export markets. Israeli Corp are flush with cash and want to make cars, Chery on the other hand are making good cars but have a poor brand image, together they could change that. The partnership was given the go ahead by the Chinese government in December 2007 but the company went to ground and no news was heard from them until recently.

Qoros Timeline:



The new brand, Qoros, was officially born yesterday. At the joint press conference between Quantum LLC and Chery in Shanghai, the new home of Qoros, officials from both companies were eager to put forward their plans for the company, showing their new logo and also first concept car. Both companies have invested around 3.4 billion RMB in capital into the company which should see its first car hit the roads in 2013. Qoros won't be another Chinese company aiming to export its models, instead Qoros is staffed by largely international talent at the top of the company with former Volvo, GM, VW and Jaguar Land Rover staff on board. The Vice Chairman, Mr. Volker Steinwascher claims that Qoros is aiming to produce annual sales of 150,000 vehicles by 2015 or 2016 with roughly half of those sales being to the international market. The first three cars will be compact models designed from scratch in partnership with Chery, the engines are already being designed by the Austrian tech firm AVL and will be produced by Chery, although Chery already produces its own ATECO engines. According to Chinese press reports the new brand will be a premium brand designed by industry leaders and be on par with current premium brands in terms of quality and engineering but sell at around 10% less than current manufacturers. The first car is expected to be a compact sedan, a compact hatchback and also a small SUV will follow, Qoros are also expected to produce EV versions of their models as well.
12-27-2012, 06:58 AM
Aristo
Administrator


Posts: 50
Joined: Dec 2012
RE: The origins of Qoros marque
Chery JV Qoros takes aim at Europe
http://www.chinadaily.com.cn/bizchina/20...213229.htm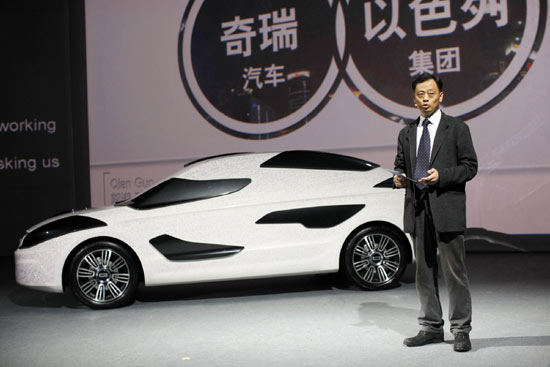 China Daily Wrote:Chery Quantum Auto Co, a joint venture between Chery Automobile and investment firm Israel Corp, on Nov 28 unveiled the design of its first car, which it hopes will allow it to reverse a trend and export made-in-China cars to Western Europe.

The 50-50 joint venture between Israel Corp and China's biggest independent carmaker Chery Automobile was set up in 2007.

After years of silence, Chery Quantum, in a glitzy, well-scripted event similar to events put on by carmakers at international auto shows, complete with a light show and dancers, unveiled its new brand, Qoros -- Q for quality and mimicking the sound of the word chorus.

The first compact sedan car, whose sculpted image was presented, will hit the European and Chinese markets by late 2013, the company said.

Chinese carmakers have been shaking up the global auto scene with their deep pockets, with Geely buying Swedish brand Volvo Car, but so far their local brands have failed to break into the Western market, while China has been a key market for European carmakers for some time.
State-owned Chery, China's biggest auto exporter, has made inroads into South America and Russia, but failed to make its mark in the US or Western Europe with its own branded cars.
Chery faces huge challenges -- not only does Qoros need to set up a new factory, it also needs to build up a new brand from scratch, and overcome the image of made-in-China.

"You have the earn the trust," said Volker Steinwascher, vice chairman of Chery Quantum, who worked for nearly two decades for Volkswagen, Europe's biggest carmaker.

"That means the products that you deliver must have quality, no compromise on quality. They must look good, they must meet customer expectation," said Steinwascher an automotive industry veteran, noting that Apple products are also made in China.

While the heart of the Qoros car, the engine, will be manufactured by Chery, he said it is developed by a Western firm and Chery Quantum would be checking its quality.

In its favour, Qoros has a top team of experienced auto experts and executives from the West.
The biggest star, several analysts have pointed out, is former Mini chief designer Gert Hildebrand.
"Chery-Quantum company represents an intriguing experiment," said Michael Dunne, auto consultant and author of "American Wheels, Chinese Roads".

"Clearly, the innate capabilities are there. The test is whether this new firm manages to execute the plan. Will they be able, for example, to create culture that insists on consistent, world-class quality while still keeping costs in line?"

Klaus Paur, Greater China managing director for Synovate Motoresearch, who has done some market research for Chery Quantum, said Qoros has a chance of following the success of Korean carmakers Hyundai Motor Co and Kia Motors Co and Eastern European car brands including Skoda owned by Volkswagen and Renault's Dacia in Western Europe.

"All these brands have succeeded in offering value for money and this is why people are buying this."

"Nowadays 'Made in China' has a negative connotation, a quality connotation, but overall speaking made in China does not have to necessarily be bad as long as the quality is on a certain level that the consumers are expecting," said Paur.
01-31-2014, 05:13 PM
bojanb
Member


Posts: 42
Joined: Jan 2014
RE: The origins of Qoros marque
Very interesting. Nice info, thank you.